Here's a look at the BCS Board Briefing for our November 3 regular meeting.
Among the highlights, it was the first official board meeting for our new Superintendent, Dr. Rob Jackson. The Honorable Judge James Calvin Hill assisted with the Oath of Office.
We recognized our two outgoing board members. Warm memories and well wishes were shared for Pat Bryant, Erwin District Representative and Cindy McMahon, Reynolds District Representative.
We recognized Kelly Dunbar, Owen High School Social Studies Teacher. She's been named the North Carolina History Teacher of the Year!
We also recognized the service of our military men and women with a special Veteran's Day Tribute.
You may VIEW photos from the meeting or WATCH the YouTube Live Stream!
---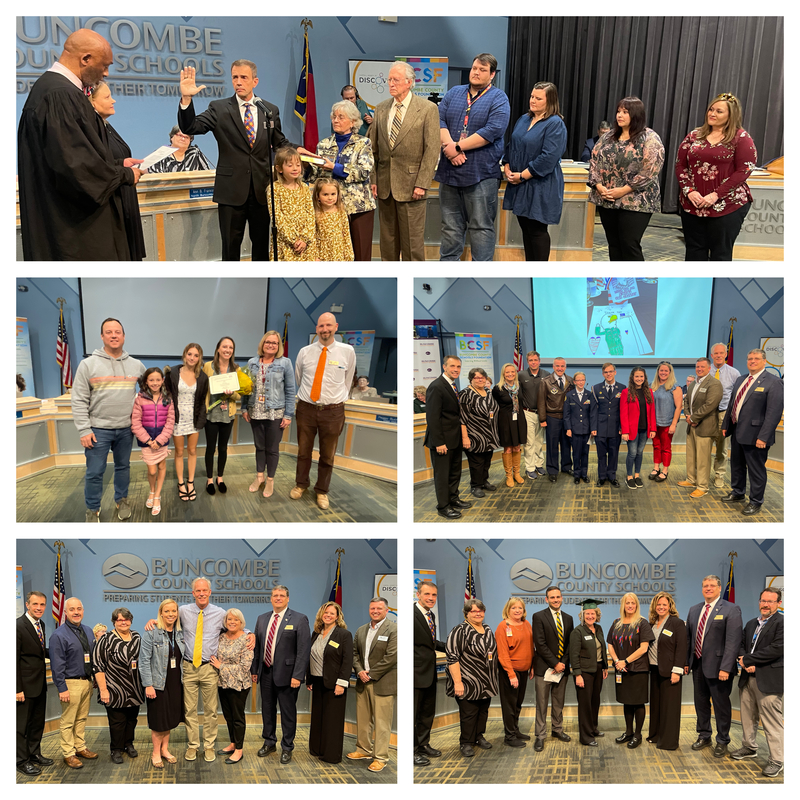 ---
---
Superintendent's Comments
Good evening Board Members, Teammates, Parents, and Members of the Community,
I am excited to have the opportunity to share what I hope will be the very first of many months and years of the Superintendent's Comments. I am so honored, and indeed blessed, to serve as your superintendent. I want to again thank Ms. McMahon and Mr. Bryant for their years of leadership and service to Buncombe County Schools. Thank you for daring to offer yourself to serve the community, for the long hours of study, and for the example you have set. I wish you the very best on the new adventures before you.
I am excited to have started the Superintendent's Listening and Learning Adventure, 100 days of discovery and exploration. As a former student and as a former employee of this great school system, I know the caliber of teachers, administrators, and staff that the school system has brought together to serve the children of Buncombe County. I am looking forward to getting to know each one of them.
To get to know our school system, I have begun making visits to all 45 schools and all school system departments. In December, I will begin to spend a full school day in each school in the school system. After the holidays, I will conduct "town hall-style" meetings in each district and online to have the opportunity to meet parents and community members. I will also be attending Town Council meetings in each municipality and attending County Commissioner meetings. Throughout all of these visits and in each of the meetings, I will be asking three questions:
What do you love best about this school system?;
What should never change in this school system?;
And, what should I be working on first?
Today is Day 3 of the adventure for me. I have had the opportunity to visit 18 of our 45 schools. I have been blown away by the warmth and joy I have found in each school. I have watched as masterful teachers led students through high-quality instructional activities. I have seen smiles throughout the buildings as I have chatted with Instructional Assistants, Custodians, Nutritionists, Counselors, Teachers, Administrators, Student Support staff, and volunteers. I have been honored as a kindergartner gave me a tour of his classroom, an eighth grader gave me a tour of her Middle School, and as a Sophomore introduced me to four different breeds of chickens, as she prepared to do the same for the second graders who were visiting her high school.
In this moment, we recognize that we stand on the shoulders of giants. We face the challenges before us. We know that students, families, and the community have never needed a strong, loving, and caring school system as much as they do now. We accept this challenge. We commit to each and every one of our students. We will elevate to new and majestic heights. We will give our all because our students are worthy of our very best efforts. Based on the visits and conversations that I have had so far, even though this is a year of change, even though there are challenges before us, still, I am confident that this will be our finest year ever.
To our team and to our Board Members, Thank you for all that you do for the students, families, teachers, and staff of Buncombe County Schools.
Thank you for the opportunity to return home to serve with you and with this phenomenal team.
---
ACTION AGENDA
CONSENT AGENDA
INFORMATION AGENDA
ANNOUNCEMENTS / FUTURE MEETINGS
The next Board of Education Regular Meeting will be held on December 1, 2022, with Work Session Updates, and Closed Session beginning at 4:00 p.m. in the Executive Conference Room and the Open Session beginning at 5:30 p.m. in the Minitorium at 175 Bingham Road, Asheville, NC 28806.