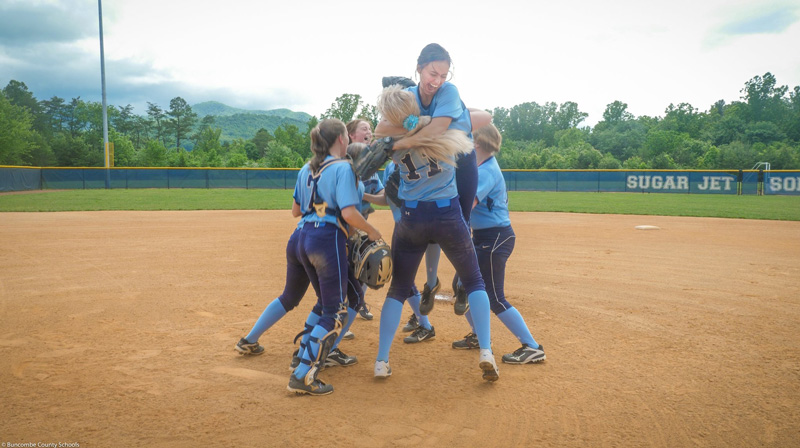 The mission of athletic programs in Buncombe County Schools is to strive for excellence in the educational and athletic arenas within an atmosphere of sportsmanship. Our programs will strive to develop individual and team potential by promoting high standards of competence, character, civility, and citizenship.
Our Athletic Philosophy:
We believe that participation in interscholastic athletics is a dynamic part of the total educational experience. It is our aim to make available the opportunity to participate in athletics to all students of Buncombe County Schools. With this premise, the athletic programs of Buncombe County Schools will be administered on the basis of educational values. These will include academic, attendance, and behavioral requirements, as well as adherence to North Carolina High School and National Federation of State High School rules. Within the framework of these regulations, the primary goal of athletic programs in Buncombe County Schools will be to provide for the growth and development of student athletes in a positive atmosphere that nurtures a positive self-concept. Emphasis will be placed on the physical, social, emotional, and academic growth of each student athlete. Our athletic programs will seek for each participant to reach his or her fullest potential as a high school student athlete while always respecting the individual dignity of every athlete. We want to provide the best possible opportunity for our athletes to have a positive learning experience through interscholastic athletics.
Core Values of BCS Athletic Programs
Competence
We will strive for an athlete in our programs to be competent in terms of:
Skill Development

Fundamentals

Knowledge of the game

Strategies

Fitness & Conditioning

Healthy Behavior
Character
We will strive for an athlete in our programs to demonstrate the following virtues:
Responsibility

Integrity

Accountability

Dedication

Trustworthiness

Fair Play

Self-Control
Civility
We will strive for an athlete in our programs to demonstrate civility toward others, showing:
Respect

Honesty

Fairness

Sportsmanship

Caring

Equity
Citizenship
We will strive for an athlete in our programs to demonstrate citizenship through actions showing evidence of:
Loyalty

Commitment

Teamwork

Community Service

Role Modeling