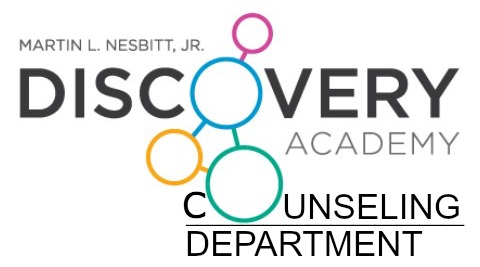 The Nesbitt Discovery Academy School Counseling Department's mission is to provide a comprehensive program that focuses on the Personal/Social, Academic and Career development of all students in order to help them be their best selves and invent their own tomorrow. The three domains are defined by the American School Counselor Association National Model.
Please use the links on the left-hand side in order to find details and updates to frequently asked questions by students and parents.
Meet your school counselor:
Heath Capps - Seniors/Sophomores
Claire Shippey - Juniors/Freshmen

COMMUNICATION:

We use Remind to communicate important information, upcoming deadlines, and other reminders to our students and parents. Please reach out to your student's grade level counselor to get connected.


WHY HIGH SCHOOL COUNSELORS:
High school years are full of growth, promise, excitement, frustration, disappointment and hope. It is the time when students begin to discover what the future holds for them. High school counselors have an impact on these years by implementing a comprehensive school counseling program and collaborating with school staff, parents and the community to create a safe and respectful learning environment. High school counselors enhance the learning process and promote academic, career and social/emotional development. High school counseling programs are essential for students to achieve optimal personal growth, acquire positive social skills and values, set informed career goals and realize their full academic potential to become productive, contributing members of the world community. High school counselors hold a master's degree and required state certification in school counseling. Maintaining certification includes ongoing professional development to stay current with educational reform and challenges facing today's students. Professional association membership enhances the school counselor's knowledge and effectiveness. -From American School Counselor Association
CONFIDENTIALITY:
The counseling relationship between a student and their professional school counselor requires an atmosphere of trust and confidence. Students must trust the school counselor in order to be able to enter into a meaningful and honest dialogue with them (Iyer & Baxter-MacGregor, 2010). However, students should be informed that exceptions to confidentiality exist in which counselors must inform others of information they obtained in the counseling relationship in order to prevent serious and foreseeable harm to students themselves or others and if it is legally required.
*taken from ASCA "The Professional School Counselor and Confidentiality"

NDA School Counseling Vision:
The Nesbitt Discovery Academy School Counseling program believes that all students will thrive with a comprehensive counseling program within a supportive, creative, and dynamic 21st century school environment. The school counselor believes that all students have the ability to succeed and will focus on the personal/social, academic, and career development of all students through intentional, data-driven programming. The Nesbitt Discovery Academy school counselor will use a combination of individual student planning, small-group counseling as well as classroom lessons that focus on areas identified through needs assessments and cumulative school data in order to provide the knowledge and skills to help all students be life-long learners and meet individual life goals while overcoming challenges. The school counseling program seeks input from and collaborates continuously with students, parents, teachers, administration, district leaders and other stake holders in our community in order to re-evaluate the program and the ever-changing needs of our students.

NDA School Counseling Mission:
The Nesbitt Discovery Academy School Counseling Department's mission is to provide a comprehensive school counseling program that focuses on the Personal/Social, Academic, and Career development of all students in order to help them become 21st century leaders who will strive to invent a better tomorrow and establish relationships exhibiting a global awareness.
Contact:
Heath Capps
175 Bingham Rd, STE 10
Asheville, NC 28806
828.271.4526
Claire Shippey
175 Bingham Rd, STE 10
Asheville, NC 28806
828.810.4537