Students in Ms. Ebner's Exploring Nutrition & Wellness class were able to have a hands-on experience and learn what the different colors of fruits and vegetables mean. This lab was lead by Dayna Miller who is the Green Aprons Program Lead with Bounty & Soul. Bounty & Soul is a community-based non-profit organization which provides access to fresh produce and wellness education for everyone. Thank you to everyone for this opportunity! We saw lot's of smiles today and students were able to enjoy tasting the colors of the rainbow and share leftovers with faculty and staff.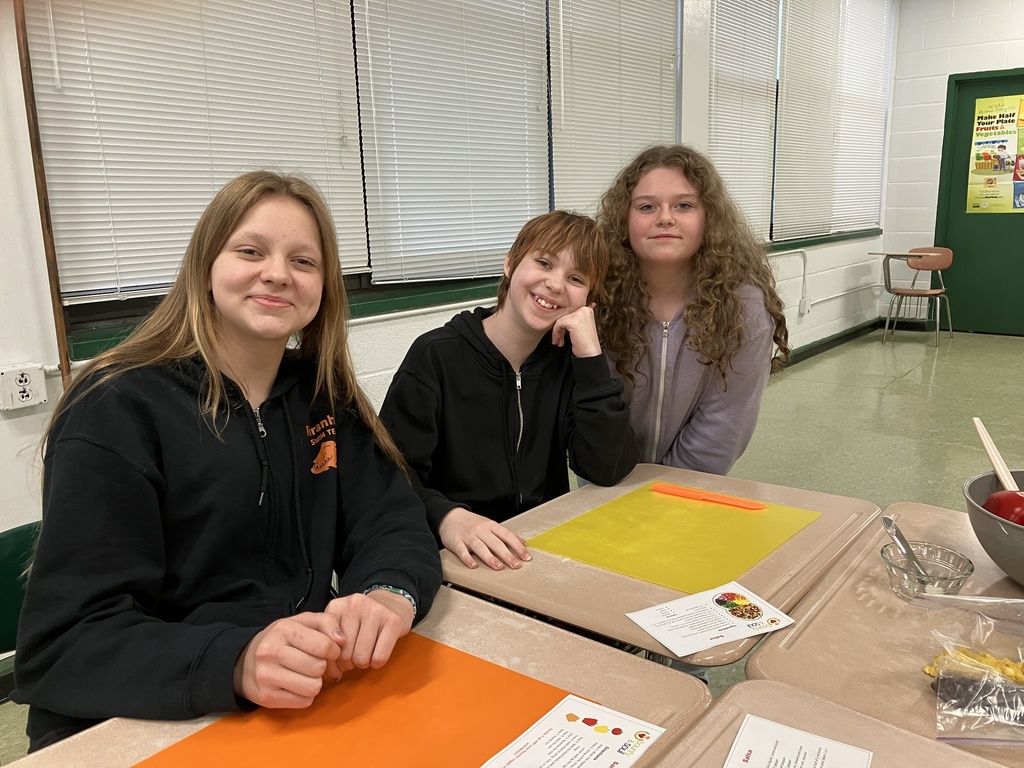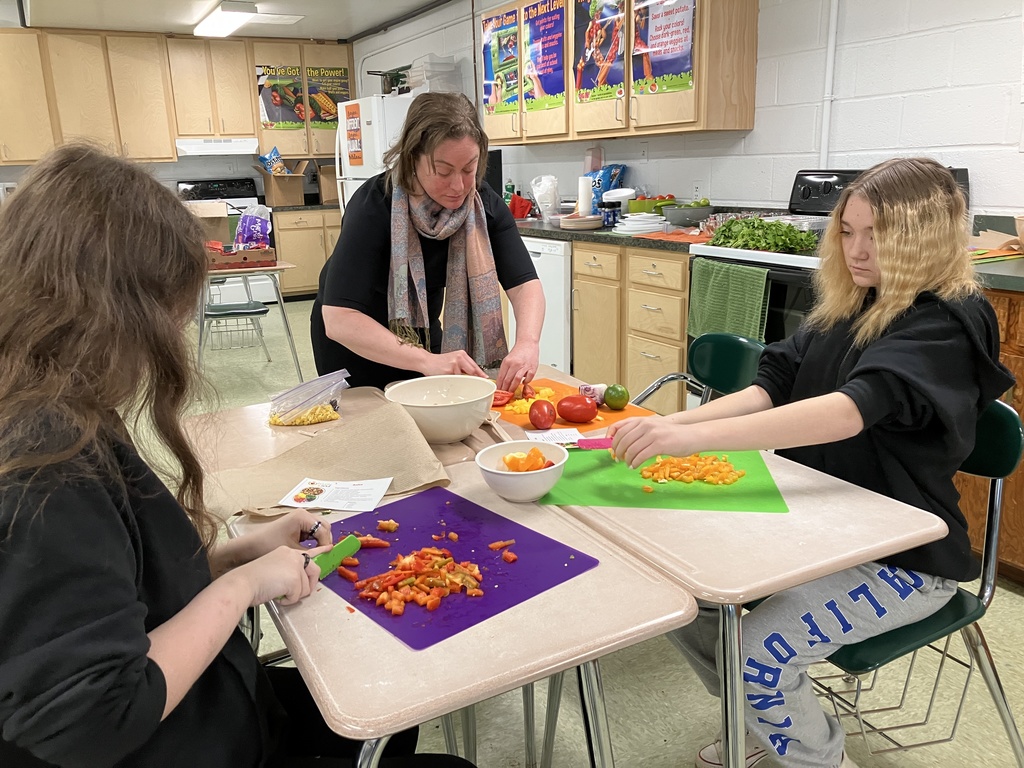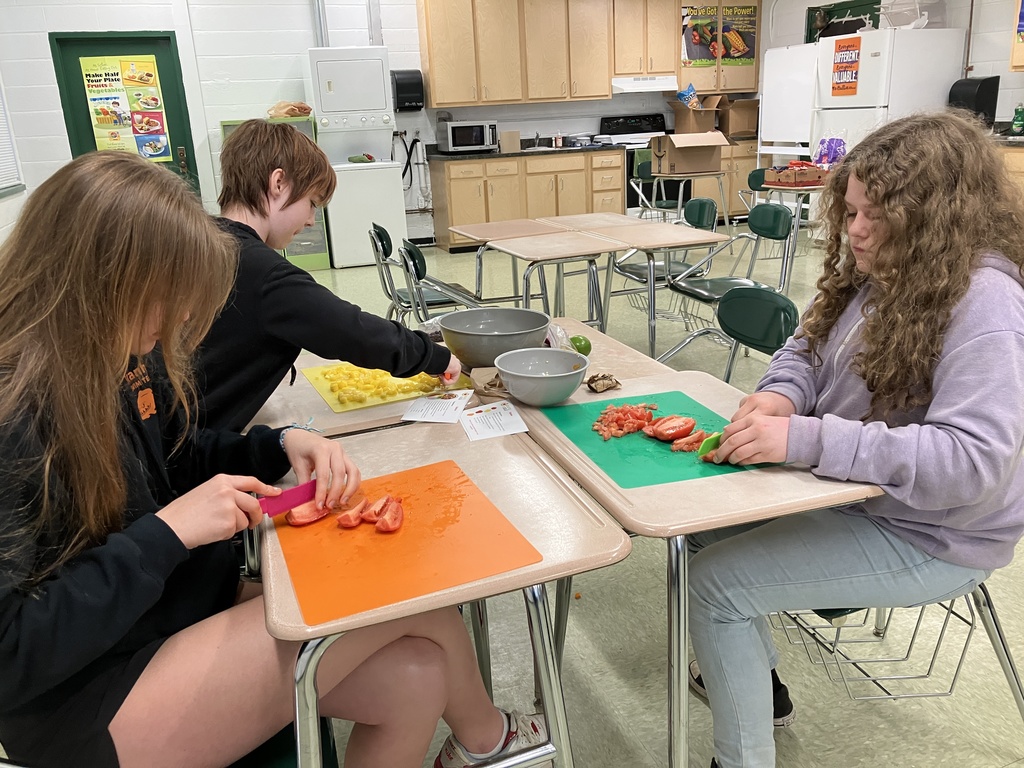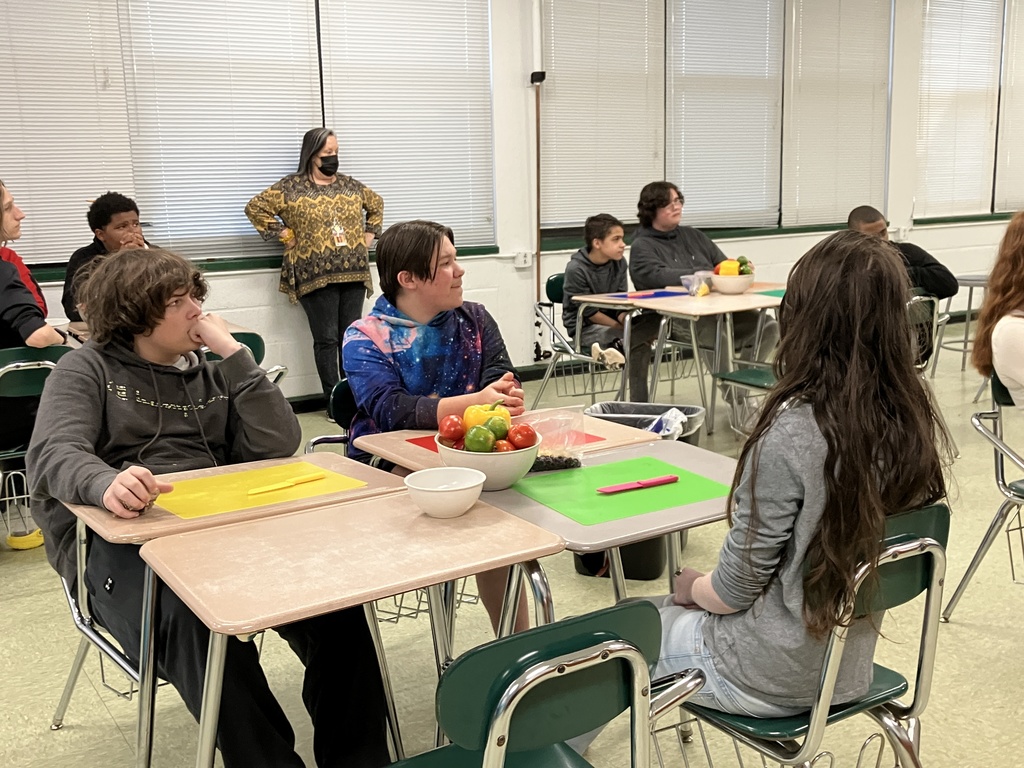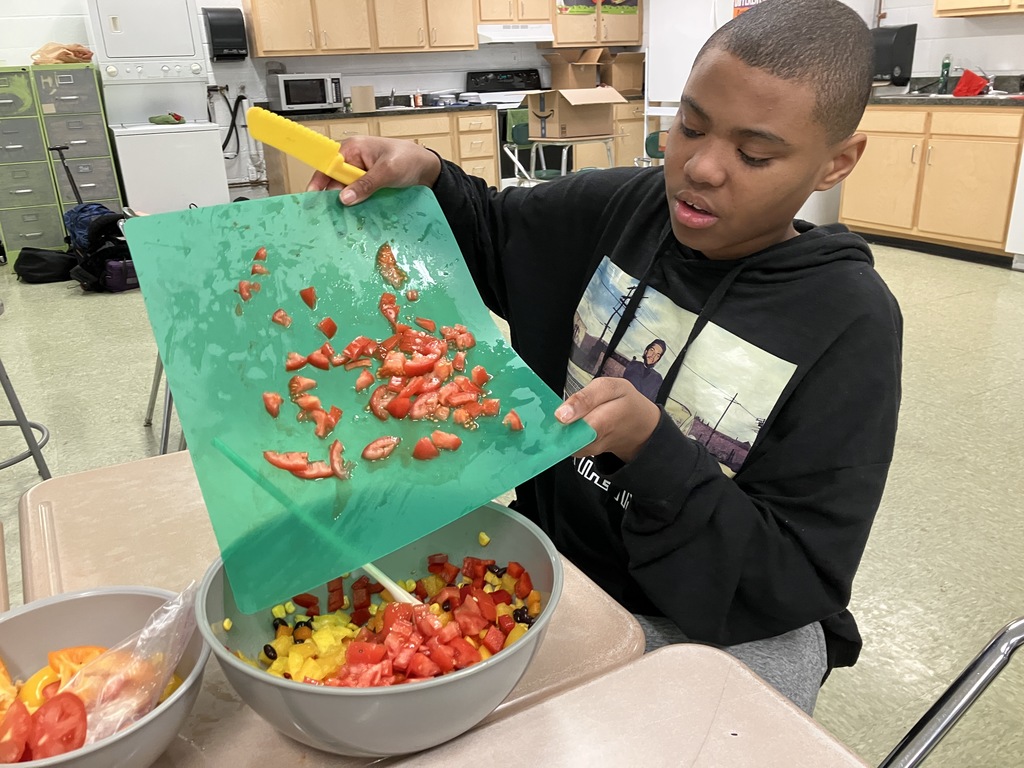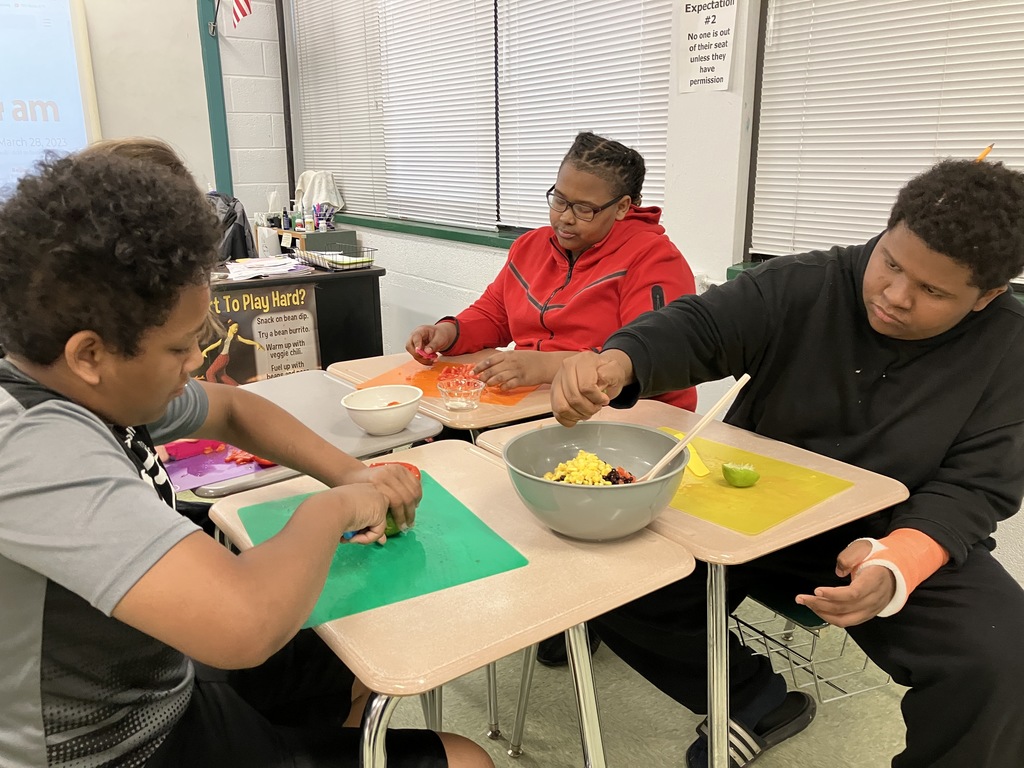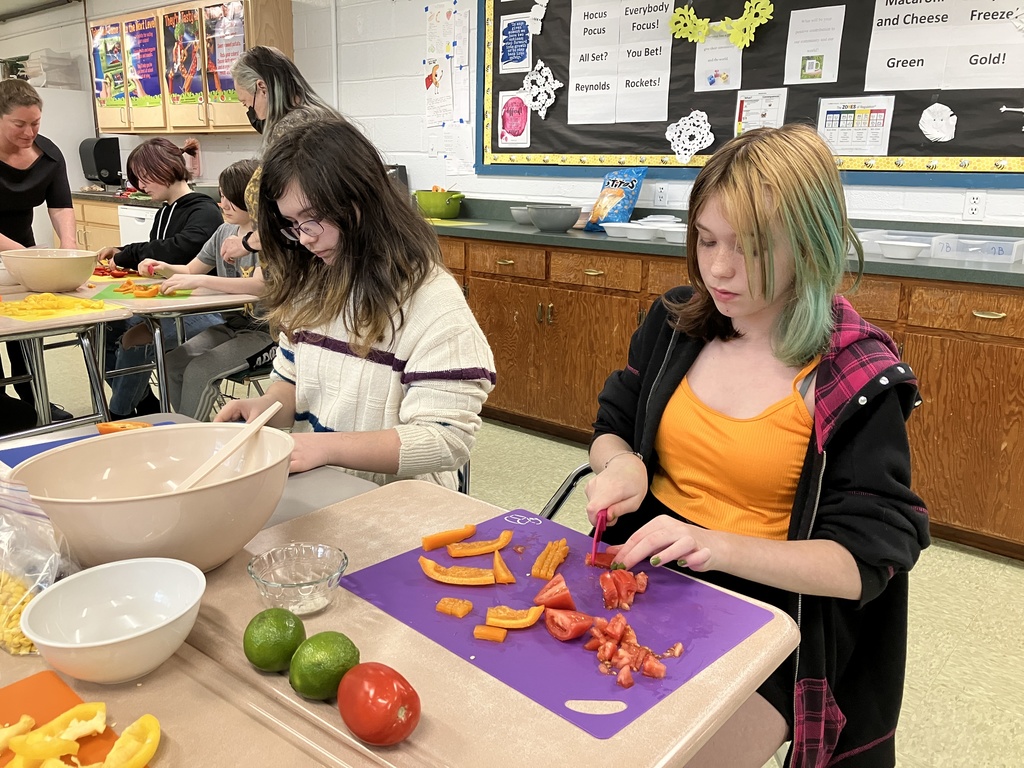 Join ACRMS, Cane Creek Middle, and ACR High Families for this FREE event!
Please join us for our Ready for Takeoff open house, March 15, 6pm. We are looking forward to meeting our rising 6th grade students and families as well as preparing our current students for the next grade level. Charter, homeschool, and private school families are also welcome.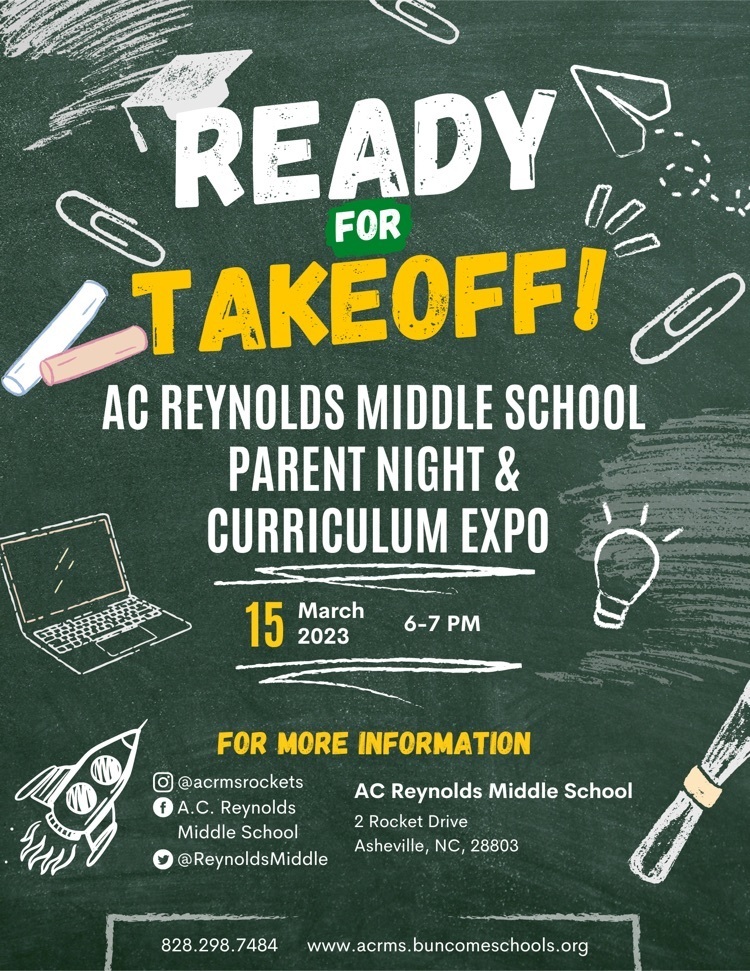 Don't miss our next PTO meeting - Wednesday, March 1, at 5:30 at ACRMS!
The next PTO restaurant fundraiser will be on March 7 at 828 Family Pizzeria on Merrimon. It will be a combined event for both the ACRHS PTSO and the ACRMS PTA, a true Rockets Spirit Night! Make sure to mention the Rockets so your proceeds benefit our schools.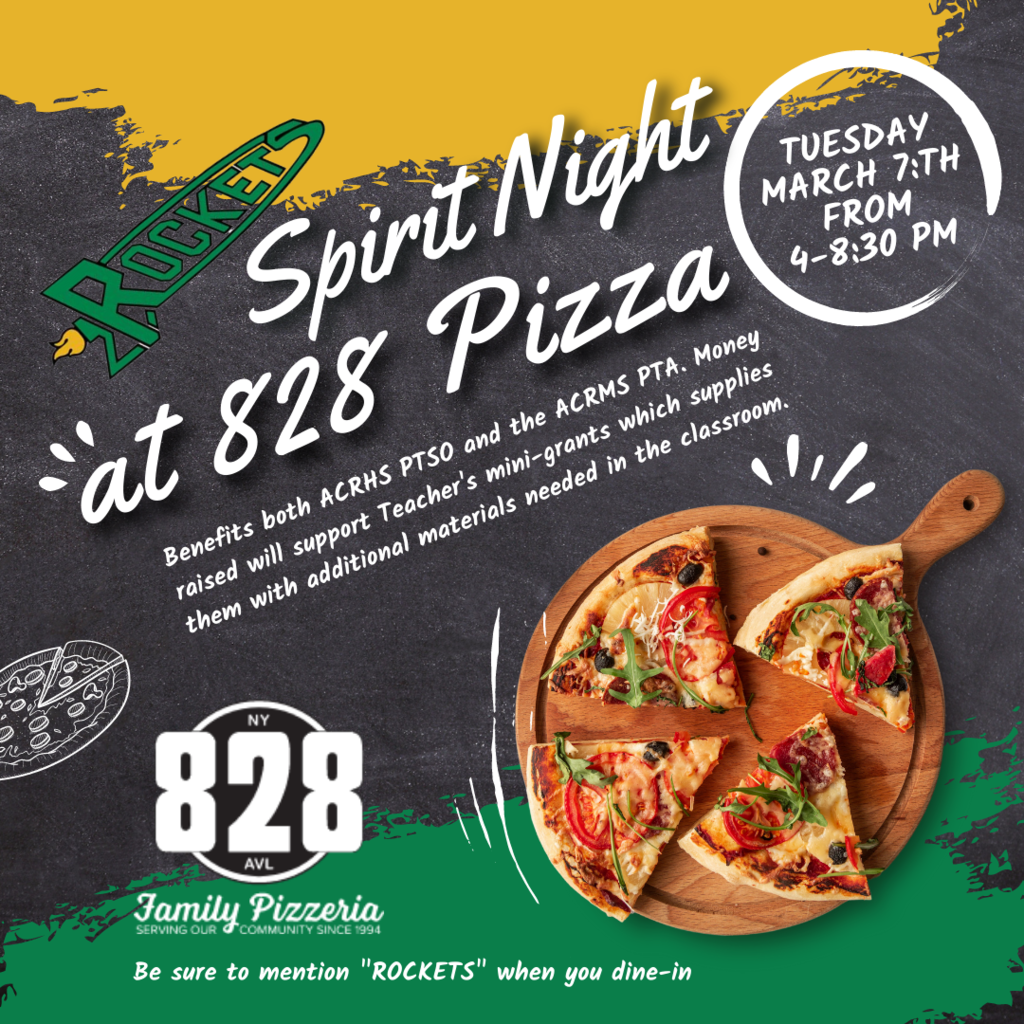 The "Show the Love" goal was $5,000 - and we raised $4,609! Thank you so much to the families of ACRMS for your support and generosity. These funds will help support teachers and staff with any additional needs they have in the classroom through the mini-grants program.

Buncombe County Schools is hosting an Educator Career Fair on Saturday, March 4, 2023, from 9 am - 12 pm. Location: 175 Bingham Road - Asheville, NC - Use entrance B. We are hiring Elementary, Intermediate, Middle, and High School Teachers for the 2023-24 school year and we want to meet you! Register at
https://bit.ly/BCScareers
. We look forward to seeing you soon!
A huge thank you to the family and friends of ACRMS! The PTO "Show the Love" fundraiser raised a little over $4,500 - just $500 short of our goal! The fundraiser has been extended for one more day - if you would like to contribute you can Venmo @ACRMS-PTO.
This week is School Bus Driver Appreciation week, make sure to tell your bus driver what you appreciate about them. Students have said they love that their bus driver knows their name and says hi to them every day. Thank you to our Bus Drivers!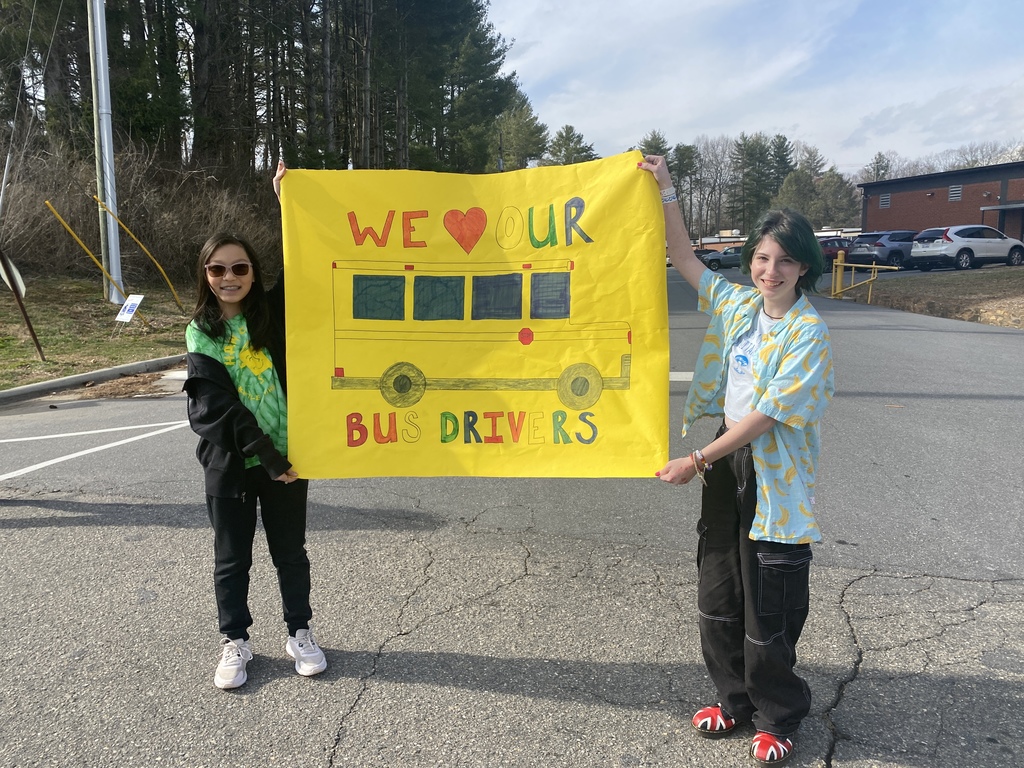 All Buncombe County Schools will operate on a two-hour delay for students tomorrow, January 13.
Come eat at Subway and help benefit ACRMS! Mention ACRMS at Subway on Wednesday, January 25 from 10 am to 8 pm and our PTO (soon to be PTA) will get a portion of the proceeds.
Calling all bakers, on Wednesday 12/14 the PTO is hosting a cookie contest for ACRMS staff! The staff will choose their two favorite cookies and the winning baker will receive a $25 gift card! If you are not a baker we will also need coffee/tea/hot cocoa to go with the cookies. The PTO is also sponsoring a paper drive - the teachers need copy paper and tissue. Thank you!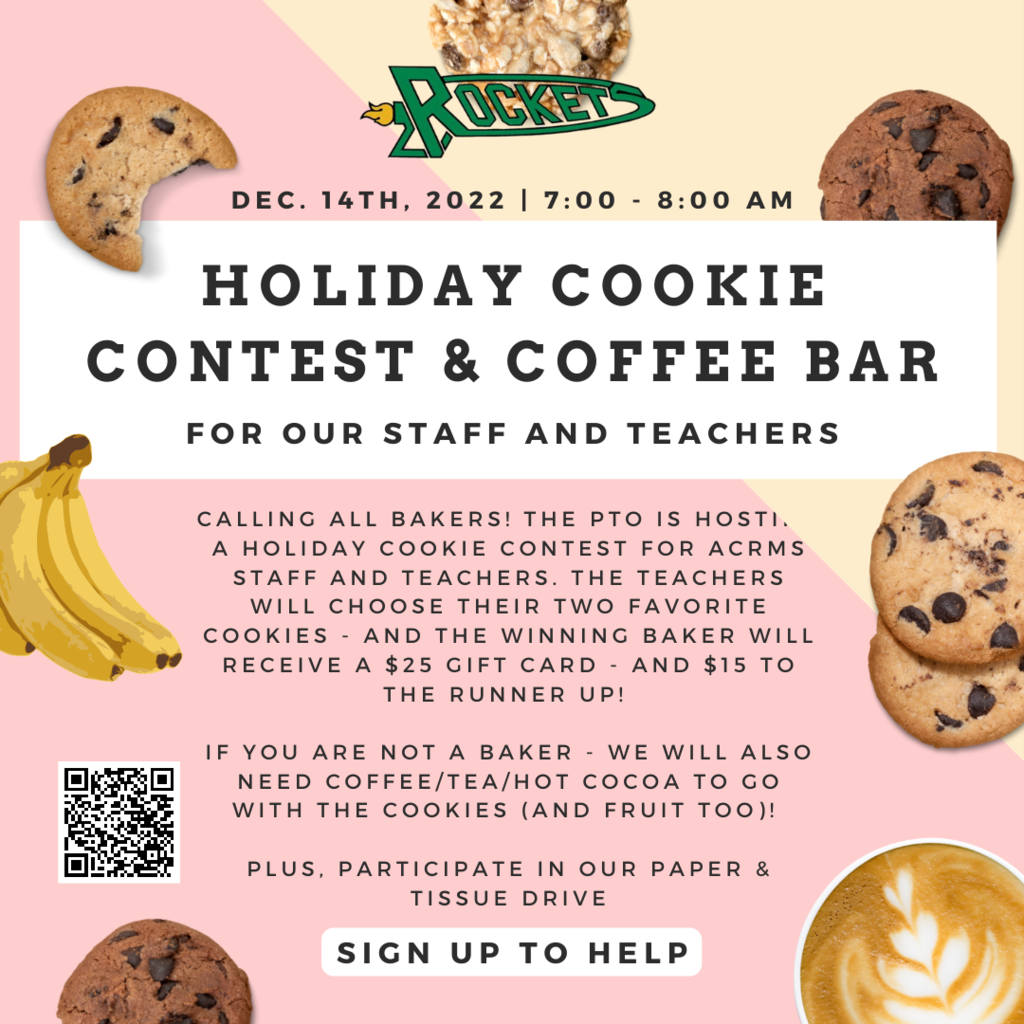 We're thankful for our students, teachers, families, and staff who make our schools shine every day! May you have a safe and restful Thanksgiving holiday. 🦃🍊🍁🍂❤️
Come out and watch some good wrestling matches to help the FBMSC support the BCS/ACS Food Banks. On November 17 and November 22, instead of buying your ticket on GoFan or in person, bring in 3 canned goods or non-perishable items to your school's match.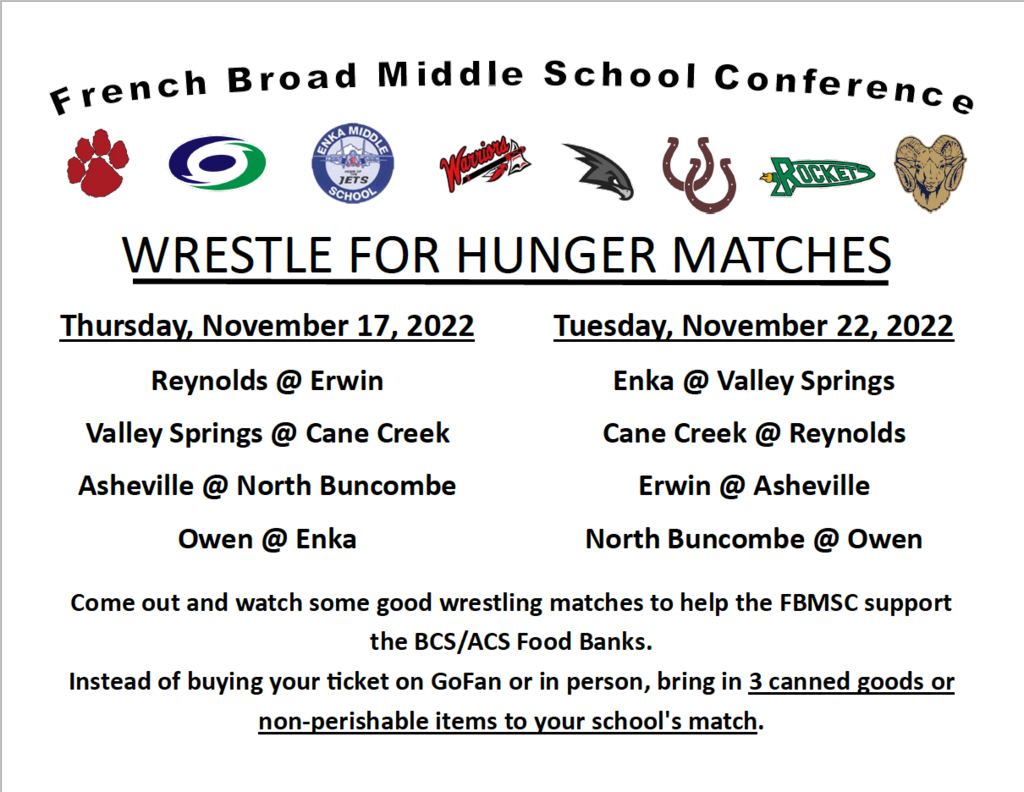 Yearbook Recognition Ads are the perfect way to commemorate achievements and celebrate milestones. To purchase your ad online, follow the instructions listed below. Jostens is responsible for our school's yearbook ad sales. Please do not contact or send materials to the school. Please also consider our school's ad content guidelines below during the creation of your ad online. All orders must be placed by 12/18/2022. IT'S EASY! Create your ad online at
www.jostensadservice.com/student
1. Choose your ad size and layout. 2. Enter your text and upload your photos.
PTO is hosting a restaurant night Wednesday, 9/21, at Creekside Taproom from 3pm-9pm. Mention ACRMS when you pay your bill and a portion of the proceeds are donated to our school.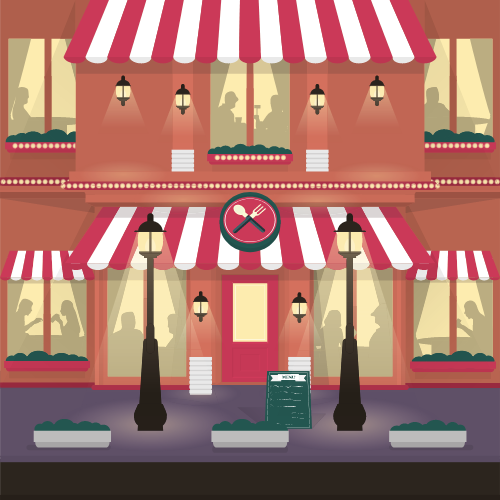 Free/Reduced Meal Applications for the new school year are available now! You may apply online >>>
https://bit.ly/3QaVJHm
This important program ensures all of our students have access to healthy lunches during the school day without accruing large cafeteria balances. This program is confidential and registration is easy! This year, children who qualify for this program will not be responsible for any of the cost of the lunch. This year, universal free lunch is no longer available at the majority of our schools as we continue with COVID recovery. Paper applications will be given out on the first day of school. Please take a few minutes to fill out a free and reduced meal application today, even if you aren't sure if you will qualify. If you have questions or need assistance please call 828-255-5927. Please note that all schools will still serve breakfast to students at no cost next year!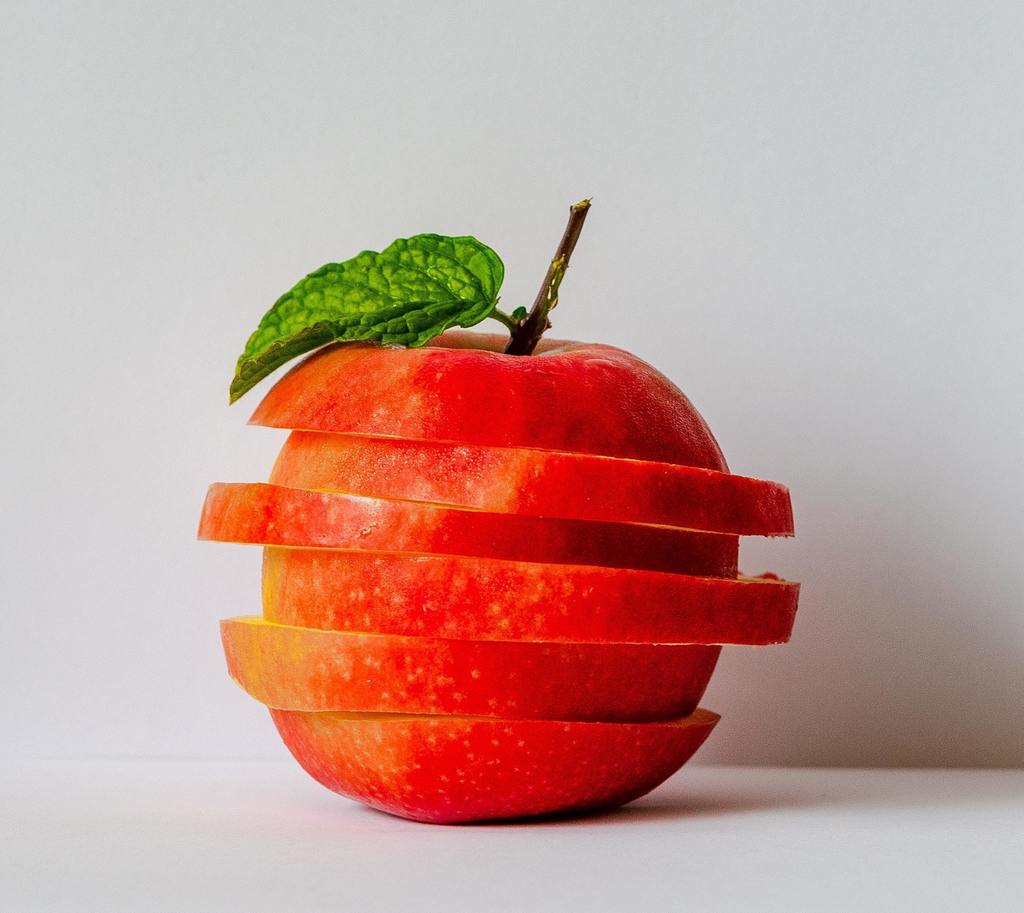 Attention, Parents: If you have already moved or have plans to move this summer and will switch schools, please plan on enrolling your child in their new school as soon as possible! This includes those remaining in Buncombe County Schools and those leaving the area. Our schools have begun sending out important information for the new school year, and if you aren't enrolled in the correct school, you'll miss these messages. Not sure which is or will be your community school? Click buncombeschools.org/findmyschool to connect with your new Buncombe County School. We look forward to welcoming your child to school!