Reynolds Middle School students have a variety of clubs to choose from to enrich their school experience. Clubs generally meet before or after school and allow students to explore areas of interest.
Battle of the Books will meet once a week (date TBD) after school until 4:30. See Ms. Luke or Ms. Altman for more information.
The purpose of the Battle of the Books program is to encourage reading by all students at the middle school level. Students, regardless of ability, are exposed to quality literature presenting a variety of literary styles and viewpoints by prominent authors in the area of young adult literature. The fame format creates interest and excitement in reading.

Through the fun and excitement of the competition, students improve reading skills, mature in their choices of reading materials, and acquire a broader knowledge base. Even during the height of the competition, students and coaches should remember that the goal is to READ, not necessarily to win.
"Heart and Sole" of WNC
A LOT MORE THAN A RUNNING PROGRAM…
Girls on the Run strives to empower girls early in their lives to find strength, courage and self-respect from within and draw upon it as they face the challenges of adolescence and adulthood.
Girls on the Run (GOTR) is the name of the organization:
Girls on the Run for 6th – 8th graders
GOTR is a national non-profit educational running program
that strengthens girls physically, emotionally, and socially.
GOTR combines self-esteem enhancing life-lessons,
discussions, & running games in an encouraging,
girl-positive environment where girls can feel free to express themselves
and build their confidence.
Visit http://www.gotrwnc.org/ for more information.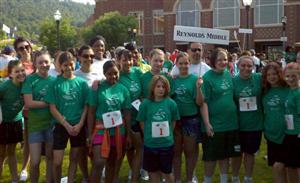 MATHCOUNTS® is a national math enrichment, coaching and competition program that promotes middle school mathematics achievement through grassroots involvement in every U.S. state and territory. Celebrating its 25th anniversary,MATHCOUNTS is one of the most successful education partnerships involving volunteers, educators, industry sponsors and students.
Each year, thousands of teachers use the free MATHCOUNTS curriculum materials to supplement classroom materials or as part of an extracurricular student activity. Those wishing to fully capitalize on the ability of the creative MATHCOUNTS materials to challenge students and motivate them to develop strong math skills also participate in the MATHCOUNTS competition series.
After several months of coaching, participating schools select students to compete individually or as part of a team in one of the more than 500 written and oral competitions held nationwide and in U.S. schools overseas. Winners at the local level proceed to state competitions, where the top 4 Mathletes® and top coach earn the right to represent their state or territory at the national level. At all levels, MATHCOUNTS challenges students' math skills, develops their self-confidence and rewards them for their achievements.
The ACRMS Honor Society Induction is indefinitely postponed for 2020.
All seventh and eighth graders who received induction invitations are officially members of the ACRMS Honor Society for this year.
Sixth graders who completed at least 3 hours of service and turned in their forms are also members. PLEASE DO NOT ATTEMPT TO COMPLETE YOUR SIX HOURS AT THIS TIME. If we are out of school for a prolonged period of time the 3 hours only will be sufficient. Health and safety is the number one priority and special concessions will be made this year for students who are unable to complete their hours due to social distancing measures.
When we return to school we will have a meeting to discuss the possibility of rescheduling the induction and how/if sixth graders should complete their hours.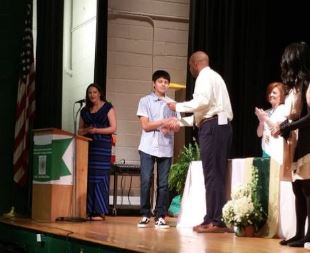 Dear ACRMS Student,
The A. C. Reynolds Middle School Honor Society is always looking for students with:
High academic achievement

Strong character

The desire to serve others
Students who wish to join the Honor Society must have a 3.5 GPA(more A's than B's), with no grade lower than a B, when looking at First Semester Averages. Students must also demonstrate positive character traits and complete community service (12 hours for 7th and 8th graders, 6 hours for 6th graders) before the end of the first semester. You can start earning your service hours immediately and continue working to earn hours all through the first semester. Be creative in finding ways to serve others – we are flexible and really just want you to work for others and put yourself second. As long as you can have it documented and signed for, anything you do between June and January can count towards your required hours. However, please remember that you may not be compensated in any way for the hours worked. A Service Hour Documentation Form can be obtained in the office and more copies will be available as needed.
We will check grades and discipline data for any student who turns in a Service Hour Documentation Form. Students who meet all 3 requirements will be invited to join the Honor Society or continue as a member of the Honor Society if they have already joined. An Induction and Recognition Ceremony will be held sometime in February or March.

Possible Service Activities – if you need some ideas:
We will offer a few school-sponsored service projects during first semester

Work in the yard or around the house of a neighbor or friend (not your own) mowing the grass, raking, pulling weeds, vacuuming, dusting, sweeping, washing windows, washing cars, etc…

Volunteer at a synagogue/church/ house of worship in the nursery or child care center during events or services

Help collect donations for Eblen Charities during our school-sponsored fundraiser

Help collect food for MANNA, ABCCM, Hearts with Hands, or other organization

Stay after a home sporting event and help clean up – sign up with Ms. Altman

Help clean up the ACRMS campus by landscaping, pulling weeds, raking leaves, picking up trash, etc… – sign up with Ms. Altman when opportunities are advertised.

Contact a local charity or religious organization and ask how you could serve there
ABCCM South 684-3872 Hearts with Hands 667-1912
American Red Cross 258-3888 MANNA 299-3663
Eblen Foundation 255-3066 Salvation Army 253-4723
Food for Fairview 628-4322 Santa Pal 258-3230
Asheville Jewish Com. Ctr. 253-0701 WNC Rescue Mission 254-1529
We will have several special activities during the year, open only to Honor Society members. If you have any questions or concerns, please contact the Honor Society Sponsor, Kim Altman from the STAFF page.